Till now, notiOne trackers has been working basing on Bluetooth technology. However, after the 4th year of the brand activity, the new device came out. notiOne GPS is a device which defines precisely its location via satellite signal. No obligatory fees are included. See what else makes notiOne GPS unique.
notiOne GPS enables tracking stolen or lost objects wherever you are. A pin with an address in a free notiOne app pinpoints where a secured object is.
Each notiOne GPS is equipped with a holder facilitating attaching on a cable tie. Additionally, it is waterproof and can be watertight with a rubber case, which can be bought in the official notiOne store.
Work time
The battery works several days on basic settings. The device is charged with USB C charging cable for at least 3 hours.
Dimensions
Small size (97 x 25 x 31 mm) and light weight (100g) enable easy montage in a car or a motorcycle, attaching to a pet's harness or securing baggage.
No additional costs
Buying any notiOne device, the only cost is the cost of the device. Shop once and enjoy fully functional device with no obligatory fees.
You can choose one of 2 notiOne GPS versions: basic or PLUS.
notiOne GPS (basic)
The basic version of notiOne GPS updates its location every 5 minutes. You can see a location on a map in the free app. You can check also location history from last 30 days.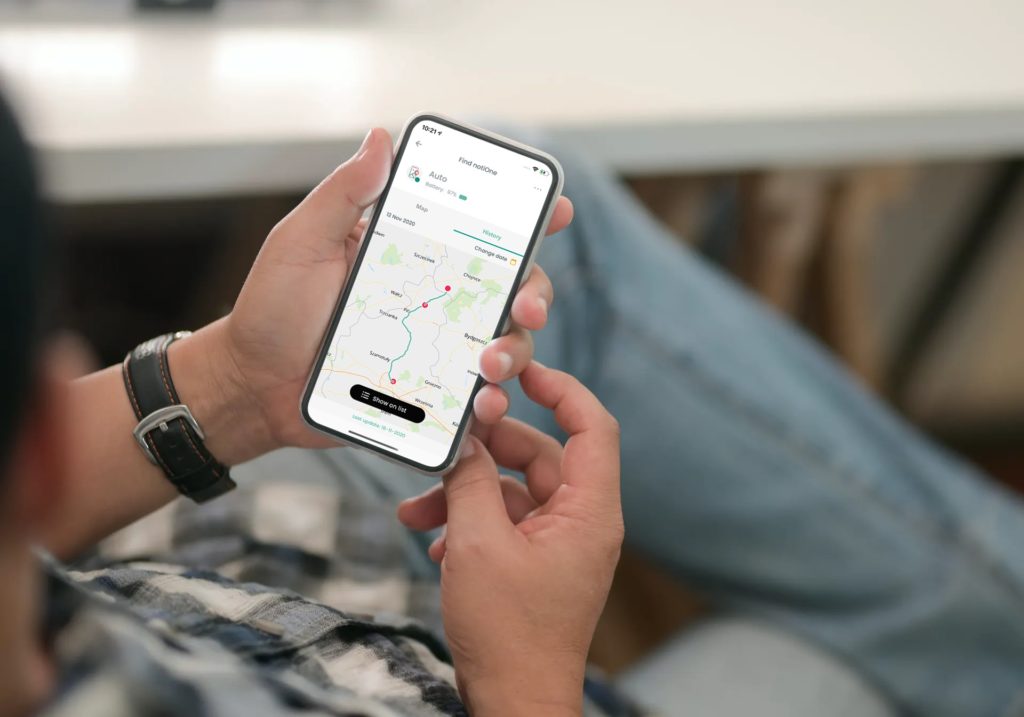 notiOne GPS PLUS
The version includes advanced device configuration, specifically:
– defining the frequency of location update when the device is in motion,
– defining the frequency of location update when the device is motionless,
– theft alert – a notification received when the device starts moving,
– roaming for other countries – tracking also overseas.
Hence, you can adjust the battery work. More frequent location updates are associated with stronger battery consumption. Less frequent updates extend the time of work.
PREMIERE GIFT
Great news is first new users can try the PLUS version for 2 months if you choose notiOne GPS basic! So don't hesitate and try!
See notiOne GPS in practise (turn the subtitles on):
See also: notiOne GPS or notiOne go! – what each one is best for?